Back
Ms. Maudie by Christine Seymour Burke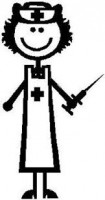 12 November, 2019
Ms. Maudie – Helper at the Hospital
Christine Seymour Burke
Maud Mahalia Seymour, fondly known A "Ms Maudie" was born on July 27th 1908to Phillip and Durisha Watson in East End. Maud left East End at an early age to stay with Mrs. Leila Ross Shier (creator of our national song) in George Town.
The Ross family had a positive influence on young Maud's life and she grew up to be a smart and responsible adult.
Even though Maud did not have a full-fledged education, her wit and jovial character created a moderate balance, an attribute that did not escape the sharp eyes of Ronald Seymour. So it was that they were joined in marriage. The union produced eleven children, one of whom did not survive.
Maude started working with the Cayman Islands Government Hospital in the early 1930s with physicians like: Dr. Overton, Dr. Horter, Dr. Pete, Dr. Phinlinson, Dr Magnus, Dr. McNeil-Smith, Dr. Shoucair, Dr. Bruce Roper, Dr. Ellington, Dr. Bolan and Dr. John Williams. It was during this time that Maud's husband Ronald went to the United States and she almost single-handedly set out to raise her ten children. In addition to her job at the hospital, she washed and ironed tirelessly for the US Navy personnel at the George Town Navy Base, she twisted strand and made thatch rope, she worked on tops and brooms that could be cut before and after school. Life seems to get better for a while when Ronald returned and found work with H.O. Merren and Co. Unfortunately, he died in 1961 and she was forced to work as hard as ever.
In Maudie's tenure at the hospital, she was responsible for the overall housekeeping of the outpatient department and in particular the doctor's office. She played a crucial role in the lives of all Cayman's seamen. She always felt that it was her duty to have the seamen examined and out of the office as fast as she could. As Mr. Harry McCoy recalled, "Maudie was doing some of everything at the hospital." She herself would often say with a smile, "I am nothing but the cleaner, you know."
Maudie knew that in those days the livelihood of this country was getting our men to sea, where they could work and send money home for their families. Medical examinations were a standard part of the requirement for the seamen and her duty was to test their urine and take the results to the examining doctor. This she did diligently while giving the seamen numerous jokes. On any given day, the testing task could become very hectic if a request from a shipping agent came for 60 to 70 men to leave out of the country within 24 hours.
In these instances Maudie's normal chores would be pushed aside until all the tests were through. Her other work did not suffer: she just felt that it was her utmost duty to put the seamen first.