Wireless Officers (Sparks) from the Cayman Islands

Wireless Officers (Sparks) from the Cayman Islands
Most of the Wireless Officers in the NATIONAL BULK CARRIERS Fleet were from Ireland and other Countries, however....
An interesting item of Cayman's Maritime History, as it relates to seafaring personnel, is that in addition to all the other positions held by Caymanian Seamen who sailed with National Bulk Carriers over several decades, extending from Captain to Chief Engineer and all the other ratings in between there were only two Caymanian Wireless Officers among them.
The first was the late Cyril A. Ritch, who was born on Cayman Brac on 10th. March 1926. Cyril left the Brac for Kingston, Jamaica with his parents at the age of sixteen. While furthering his schooling he specialised in Wireless Telegraphy and worked for Pan American Airways for a while before being recruited in 1948 by Capt. Merrill G. Southwell, Personnel Manager of National Bulk Carriers, New York, as a Wireless Officer. His first and only ship was the SS Ulysses. After two years of going to sea he was transferred to the New York office as one of Capt. Southwell's Assistants. Cyril visited Grand Cayman and Cayman Brac quite regularly on personnel business. I well remember how, amazingly, he knew the full names of every single seaman he met and could recite the names of the ships they sailed on, as well as their ratings and performance records.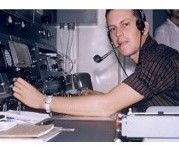 The other was Gurney A. W. Panton, from Grand Cayman. Gurney had shown an interest and dexterity in Wireless Telegraphy as a youngster and became proficient in Morse Code. When he left the Cayman High School in 1953 he was sent by his father, the late Albert C. (Mr. Bertie) Panton at age 17 to join the SS Bulk Petrol as Officers Messman. His first trip was from Newport News, Virginia to the Arabian Gulf via the Suez Canal. When Egypt nationalised the Canal in 1956 it became necessary to make the Gulf voyage via the Cape of Good Hope, South Africa, which added weeks to the return journey.
Gurney was subsequently promoted to Wireless Officer on the SS Bulkpetrol and also served on the SS William R. Tolbert and SS Petrolene in that capacity.
He also worked at the old Wireless Station along with the late Leighton Christian, John Franklin Bodden and present Member Lennie Hew. He also did a stint with Cable and Wireless and was a HAM Operator.
It might be of interest to some that Gurney was manning the Radio and receiving messages from the New York Office when the unexpected item "regret to advise..." came over the wire that his father passed away the evening before on 11th. November, 1956. He tells me that he stopped the transmission and went out onto the Poop Deck for a while to absorb the news and compose himself before returning to complete the full transmission. His ship, the SS Ore Convey was then off Puerto Rico and so he could not get home to attend the funeral.